WHEN THE HEART HEALS
BY
ANN SHOREY
AUTHOR ANN SHOREY
When the Heart Heals is my first introduction to Ann Shorey's writing. What a writer! Historical fiction is at the top of my reading joy, and Ann didn't disappoint in authoring such a realistic story of the times after the Civil War. One fact that struck me odd, because I wasn't aware of it before, was the disdain toward women nurses. Funny, but all my life, I've been accustomed to woman nurses, and thought it unusual when more males began to choose nursing as a career. Only a comment on my part…not a complaint.
The nature of Rosemary Saxon wasn't revealed all at once, her story is complex with personal history of her and her brother Curt being estranged from their parents because of the division of beliefs about whose side was right during the Civil War. We learn early that Rosemary had been extremely capable as a nurse to injured Union soldiers at Jefferson Barracks. She met and worked briefly with Dr. Elijah Stewart during this time, and developed a secret attraction for him.
Rosemary moved to Noble Springs, Missouri in 1867 to live with her brother Curt Saxon who had married her best friend, Faith. This being the second novel in Sisters at Heart Series, I was at a disadvantage of not knowing many of the overlapping details from "Where Wildflowers Bloom." Ann Shorey didn't leave the reader in the dark with prior details – they fell naturally in place during the story. Rosemary insisted on moving into her own home to live independently and hoped to find work to sustain her financially. Ms Shorey has an admirable talent of throwing intriguing hooks of mystery into the story to keep your interest alert. Rosemary is a knowledgeable herbalist, which caused suspicious and dim witted townspeople to label her a witch.
Dr. Elijah Stewart appears again when he moves to Noble Springs to set up his medical practice. Rosemary applies for a nursing position there, and Elijah has little faith in her as a nurse but hires her for a brief time to see how things work out. He doesn't like her herbal medicinal practices or the fact that she becomes personally involved with his patients. Their romantic feelings toward each other developed slowly, much to Rosemary's chagrin. Rosemary has another suitor Jacob, who was a fine man, however complicated Rosemary's desire to develop her love interest in Elijah.
All the characters in this story are well developed and believable. At times, I did become irritated at Rosemary's stubbornness even though it made for a better story. My favorite character, Bodie the dog, was comical, loyal, and lovable. Actually, there were several interesting stories developing constantly that interacted lively and heartwarmingly throughout. Ann Shorey has written a wonderful story of healing and forgiveness that will bless you for a long time after closing the book. Her fascinating characters and the many mysteries about what has happened in the past to cause the pain in Rosemary and Elijah's past are revealed. They are two individuals that came from diverse background and experience the same emotions. Thank you Ann Shorey for a fine writing and an excellent enjoyable read. All the prayers were answered and I'm sure God is smiling on Noble Springs, Missouri.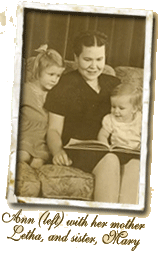 Ann's mother always wanted to write a book about her ancestors. She felt there was enough material in her collection of family memoirs, which dated back to the 1600's, to make fascinating reading.
When Ann's mother died in 1994, she passed those memoirs on to Ann. Over the next several years Ann put stream-of-consciousness reminiscences into chronological order and followed up each "remembered fact" with necessary research.
Thanks to the computer age, she wrote the book her mother had envisioned and in the late 1990's distributed it to family and interested historians.
In the process of researching her family history, Ann discovered that all of the collected memoirs had been written by men. Memories of the American Revolution, the Mexican and Civil Wars, and the westward migration were all told from the male perspective. What was life like for the women who maintained the homes, reared the children, and followed their husbands from place to place? That question sparked her interest in writing fiction to fill in the gaps. Over the next several years Ann learned her craft by attending classes, reading books, and, yes, collecting a few rejections.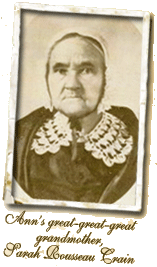 On a research trip to Kentucky in 1997, Ann and her husband, Richard, were fortunate enough to locate the graves of her great-great-great grandparents on the land they had settled in 1800. Standing in front of her great-times-three grandmother's resting place, Ann promised that grandmother she would not be forgotten.
Ann's new series, Sisters at Heart, opens with Where Wildflowers Bloom. The stories follow her ancestor's emigration from Illinois to Missouri after the close of the War Between the States. As the series title promises, the books are linked by the friendship between Faith, Rosemary and Cassie, the novels' protagonists.
One of the best things Ann learned about fiction is that it's okay to make stuff up! Thus, although these novels are inspired by her courageous female ancestors, the largest percentage of their adventures are fictional. Ann leaves it to her readers to separate truth from "it could have happened like this."
In addition to writing, Ann has won many prizes for her culinary skills. Her recipes have appeared in Country Woman magazine, and in several national cookbooks, including Taste of Country and Taste of Home. Recently author Patti Hill included one of Ann's recipes in her Garden Gates Cookbook, available on Patti's web site. Ann has been privileged to present cooking demonstrations to young women from her church as part of the Apples of Gold mentoring program.
Ann and Richard share their home with a loveable Belgian Shepherd named Amber.
What delight Ann Shorey's writing about the activities of Noble Springs, Missouri was to read. Hope you'll be enticed to read this book after reading my review. Spring is here and a time of new beginnings. I pray all your new season ahead will be blessed with beautiful sunshine, flowers and fun. And, since this is April, don't forget your umbrella....just in case. LOL!
Just Passing it Forward to bless you!