JANICE THOMPSON
AUTHOR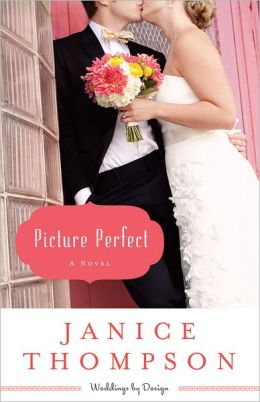 PICTURE PERFECT
Feisty wedding photographer Hannah McDermott has dealt with her share of difficult brides. But none can compare to the ultimate Bridezilla she's dealing with now.
Still, she's trying desperately to impress Bella Neeley, Galveston Island's most sought-after wedding planner, so she can take the top spot in Bella's list of recommended photographers--a spot currently occupied by her archrival, Drew Kincaid. What she doesn't count on, however, is falling head over heels for the competition.
With her contagious humor and cast of quirky characters, Janice Thompson gives readers more of the bridal business drama they want in a brand-new series all about those long-suffering people who make beautiful weddings happen. Readers are desperately waiting for more of Bella and this new series brings her back in a big way, while introducing new characters fans will love. Fans will laugh out loud as they experience this breezy and entertaining novel from a great storyteller.
She's trying to focus on her future. How can one man make everything feel so . . . fuzzy?
Hannah McDermott has a successful photography studio. She'll soon be featured in Texas Bride magazine. And she has a celebrity client whose Galveston ceremony will be her ticket to the top spot on wedding coordinator Bella Neeley's list of recommended photographers. But it could all come crashing down around her because of one man: archrival and photographer extraordinaire Drew Kincaid.
It couldn't have been more apropos that I read Janice Thompson's story "Picture Perfect" over the St. Patrick's Day weekend. Perhaps I should say that I giggled, chuckled and laughed aloud throughout my entire read of Hannah McDermott's situation at this crazy point in her life.

One of my favorite parts of Ms Thompson's book were all the Irish blessings, sayings, proverbs, and limericks at the beginning of each chapter; and of course Hannah's Grandfather Aengus's favorite sayings. But….this story went far beyond the humor to deeper emotions of each main character that the reader could easily relate.

It did my heart good to see the changes taking place between Hannah's parents after meeting Bella's large Italian family and friends who were so big hearted and loving toward one and all. A lot of the unexpected became a hectic and normal occurrence in both families' lives. The Bing and Bob party thrown annually for all the McDermott Irish friends became a huge invasion of the Italian Rossi/Neeley clan. This party turned into a big noisy bash and I can't understand why the neighbors didn't complain about all the loud singing. That's just the luck of the Irish. I do wish I could have imbibed in the Irish and Italian food that fed that bunch. All in fun this intermingling of cultures.

Let's get to the real story. Hannah McDermott is a wedding photographer located in Galveston, Texas and about to be featured in the Texas Bride Magazine. Hannah has an infamous bride client whose demands on photo details are slightly erratic, including the agent putting intense and not so honest guidelines on Hannah to involve herself in a scam involving wedding publicity. Then, there is Drew Kincaid her archrival photographer. Hannah finds it hard to really dislike this handsome man who shows his considerate sweet side to Hannah, and then she hasn't a chance of not falling in love with him. God is still in control and moving in His mysterious ways throughout the story.

Having not read any of Janice Thompson's writings before, I'm now enticed to read the books leading up to this delightful story. It is a fast paced novel with many characters and sentimental moments. If you need a boost out of a low moment – read Ms Thompson's Picture Perfect of the Weddings by Design series. Oh yes, I forgot to tell you about the McDermott/Kincaid historical feud…..well, I guess you will need to read the book to find out!
About the Author
Janice Thompson is a seasoned romance author and screenwriter. An expert at pulling the humor from the situations we get ourselves into, Thompson offers an inside look at the wedding business, drawing on her own experiences as a wedding planner. She is the author of the Weddings by Bella series and the Backstage Pass series. She lives in Texas.