"Something to Complain About"
— Daily Heartlight for 07/17/2012
If you look hard enough and long enough, you'll find something to complain about!
Adam and Eve did. Surrounded by all they needed, they set their eyes on the one thing they couldn't have.
The followers of Moses did. They could've focused on the miracles, but instead they focused on their problems.
What are you looking at? The one fruit you can't eat? Or the million you can? The manna or the misery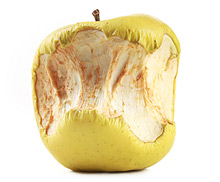 The apostle Paul reminds us:
Whatever things are true, whatever things are noble, whatever things are just, whatever things are pure, lovely, of good report, if there is any virtue and if there is anything praiseworthy, meditate on these things" (Philippians 4:8 NIV).
Even the garden of Eden looks gray to some. But it needn''t to you. Jesus who began a good work in you will carry it on to completion until the day of Christ Jesus (Philippians 1:6)! Give every day a chance!
From Max's book, "Great Everyday" — order book here: http://hlt.me/M88fGy
Used by permission: MaxLucado.co
m.
Hello Friends, It's been some time since I last posted, and I've been complaining about where my time has gone. Many well laid plans...but to no avail because of the many unexpected interruptions. They have all been for good reasons and I realized that God is putting a lot of emphasis on working in the lives of my family, my church family and our lives as of late. I won't complain any longer. I've been so blessed in spite of the pitfalls.
Today I have an appointment with an eye surgeon to decide whether I can have cataract surgery on my left eye. My right eye has been partially blind since birth. There is a risk of having surgery in my left eye...that it could blind that eye. So, this is an important appointment for me today and I'd appreciate any prayers lifted for me.
There is much news I have to share with you, but I'll save it for a few days before I let out my good news. The Lord just keeps blessings us even during the hard and difficult times.
This is the day the Lord has made, let us rejoice and be glad in it!
Hugs,
Barb