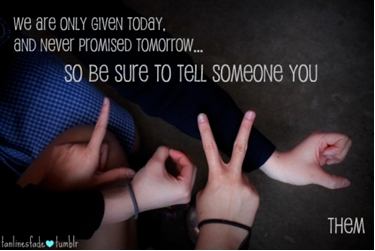 We are only given today and never promised tomorrow. So be sure to tell someone you love them.
Today is the day that the Lord has made, and rejoice and be glad in it. Never take for granted the importance of every day that you are given life on this earth. We must never stare too hard into the past, because if we do we will find that what we could of had today and in the future will pass us by when we are finally able to turn around.
Worrying about the future too much without living each day will cause us to look too far ahead, and miss out on parts of today that are crucial for success in the future.
Make an effort to live each day at your best. Though there will be bad days, and there will be good days, taking life step by step is a good way to ensure that when you start going the places that you want to be in life that you will know how to maintain a position in the place that you worked hard to be in.
This has been a very bad week personally for me, and I read this as though the Lord spoke directly to me.......he probably did! Our Father above is so AWESOME!!!
Have new blessings each day.
Hugs,
Barb